Insulation is the most important home design feature you'll never see. The right choices will make sure your house is comfortable, your energy bills are low and your water-sensitive materials are protected from moisture. There is an ever-expanding buffet of types of insulation and everyone has their own names and opinions about each. Here's a primer on what is what, and what goes where:
Fiberglass Batts
The fluffy pink stuff you are probably familiar with, which remains the low-cost go-to for basic thermal comfort. Found in stretch-wrapped plastic packaging often featuring the Pink Panther, fiberglass batt insulation comes in rolls designed to shove or lay into the space between your studs or joists. Some come with a paper backing with flaps to staple to the stud for support. The paper backing was once touted as a vapor retarding feature, however, lots of ambiguity with what that means along with geographic uncertainty as to which side of the wall should have vapor retarding properties to avoid condensation issues. In reality, it didn't do much either way as a barrier, but if you can, get the unfaced stuff in New Orleans.
Mineral Wool Batts
Like fiberglass, these come in rolls designed to stuff between the studs. Unlike fiberglass, it doesn't burn, it provides additional thermal resistance (R-value) per inch and has superior acoustic properties for a slight upcharge in price. Rockwool (formerly Roxul) was first to introduce this product into the market, but most of the fiberglass manufacturers offer a similar option.
Rigid Insulation Board
Foam panels, which generally come in three flavors:
white puffy compressed globes (EPS)

bright color - pink or blue - board (XPS), and

the creamy colored board with the foil-facing. (Polyiso)
They all have slightly different properties but the main thing is that they are all meant to be attached OUTSIDE your main structural enclosure. The bonus of this is they run uninterrupted by studs and pipes and outlets and all the other stuff you have in your wall that is NOT insulation. You can also walk on some of them making them good choices for flat roofs. They are generally associated with commercial construction, though that is starting to change. They are a great choice for building new, since a new building can be designed around a completely different insulation concept. You may encounter raised costs due to them being a less familiar install for some homebuilders and laborers. For existing houses, unless you're ripping the entire thing down to its skeleton, they are tough to justify, unless you're looking for floor insulation under a raised structure.
Blown-in
The piles of fluff with no real structure, great for retrofits because, being made out of tiny pieces, they can be used to fill up any size space from a relatively small insertion points. Piles of this stuff usually sits above ceilings but can fill in wall cavities, and there are even netted products that allow it to hug sloping roof rafters. You can make your fluffy stuff out of lots of things: fiberglass, mineral wool, old newspaper and blue jeans.
Spray Foam
Polyurethane spray foam is an increasingly popular choice for both new construction and retrofits because in addition to providing resistance to heat transfer, it also acts as an air seal. Where batts and blown-in allow air in and around their voids and installation gaps, which get worse over time due to sagging and settling, spray foam stays put, and doesn't allow any air at all to trespass through its depth which helps a lot with the interior air temperature. Also its thermal resistance per inch is at worst on par with batts and can be many times higher, depending on the product, which comes in two flavors, both of which are a bit environmentally dubious in terms of nasty chemicals involved:
Open cell - this type is cheaper, about as effective or slightly better per inch as batts at resisting heat transfer, and is impermeable to air.

Closed cell - more expensive, but has added bonuses: much more resistive to heat per inch, which makes it good for tight spaces like cathedral ceilings, impenetrable by moisture of any kind, and it strength when dry actually adds to the building's strength.
If you're looking to be cutting edge, you'll of course pay a premium, but there are options beyond the more commonly available methods listed above. Wood studs have been developed that actually have foam in the center, like an ice cream sandwich, that removes the problem of wood studs conducting heat past your insulation layer. There is even a rigid product that is actually made of mushrooms engineered to grow into a foam-like material that has great insulating properties.
There's many options in the fight to achieve thermal comfort while reducing our energy use, and it's important to know what's best for your particular situation as early as possible so that your project feels as good as it looks.
Ben and I are in the process of renovating our house in New Orleans, and I can't help but think about the exterior color scheme. Everywhere you look in this eccentric city, there are colorful buildings and homes painted with bright hues, pastel monochromatics, and neutral shades. The color palette of the architecture here creates unique city blocks that are backdrops for urban photoshoots, and takes us on a colorful, rhythmic ride. With so many examples to look at, why am I having such a hard time making this selection??
I love color. I have a whole Pinterest Board dedicated to it. I give as much importance to color and materiality as I do to architecture because thoughtful color adds so much. It demonstrates values. It expresses ideas and emotions. Color enriches our perception of space, the same way light and form do. I will touch lightly on the basics of color theory and then jump right into how I put together my exterior color scheme.
Color Basics
Who here has heard of the Color Wheel? I hope you ALL raised your hand. The color wheel represents the presence of light waves in color, each with a unique wavelength, as evidenced by the most magical example, the rainbow.
The Primary, Second and Tertiary colors might be the first box of crayons you ever received, making you an expert in the color wheel! But what about tint and shade? What are those?
Tint: The act of lightening a color by adding white to it.

Shade: The act of darkening a color by adding black.

Tone: Slightly darkening a color by adding gray.

Saturation: The highest level of pigmentation, no change with black, white or gray.

Value: Variation in light and dark.
Color Combinations
Color combinations, or as a designer may say, color palettes or color schemes, are any combination of colors. These combinations can change the mood or tone of anything you are trying to represent from logo design to architecture.
Combinations with less contrast create a mood of restraint, subtlety, discreetness and understatement.

Combinations with more contrast create a mood of drama, excitement and conflict.
In planning a color scheme, contrast is not just created by changing the entire color, but by using the same or similar colors with different values and saturations.
Color Palette Selection
Some of my favorite color palettes are created by design-seeds.com. I found the below images on Pinterest by just searching for the term 'color palettes.' Here you can get palettes already generated for you, but if you are interested in exploring your own combinations of color, read more below.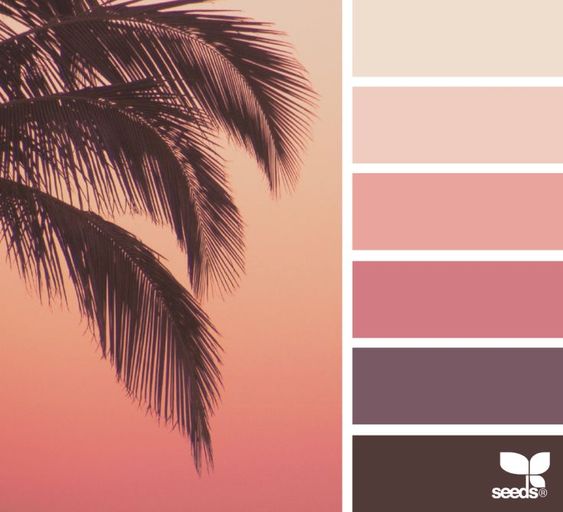 Guide to an Exterior Color Scheme (New Orleans Edition):
I would stick to selecting 3 to 4 colors at most. Proper proportions are important. One color must be the dominant color, there must be a subordinate color and then an accent color or two. Think 50%, 30%, 15%, <5% ratio.
Below are some of my favorite examples of colorful New Orleans houses:
Top Row: Monochromatic, colors of varying tones, tints and shades
2nd Row: Complementary colors
3rd Row: Neutrals
Bottom Row: Vibrant, Bold colors
What I know works:
For larger color combinations, select colors with varying levels of shades or tints. Your accent colors can be complementary colors. This helps your eyes find a place to rest.

When going with darker or deeper shades for siding, use white or vibrant colors to offset the dark color.

More than 4 colors almost always feels too busy. But hey, these are just my guidelines, not rules! The 4th color, the brightest/boldest color, should always be used sparingly, <5%. See: Front Door Colors above.

In Monochromatic schemes, use the darkest tone to emphasize detail for example, the shutters, doors and quoins, while the siding should be painted the lightest or most neutral of hues.
Color Combo Renderings
Below is a quick color study for our favorite residential project, our own house! We tried on a few of these principles - monochromatic with shifting values, neutrals with a vibrant color on important elements, and never more than 4 different colors. Check out our Instagram story to vote on your favorite scheme!
content source: The Complete Color Harmony, Pantone Edition by Leatrice Eiseman
Let us know what you think and stay up to date my subscribing to our newsletter!
This Bloomberg article…
…speaks to a point I often try to make here about how unfortunate it is that development is isolated to mass production of single-family homes, or mass-conglomeration of 100+ unit apartment buildings; an entire process out of reach of the average-sized business or average citizen to have any influence on their built environment. I wrote last month about how this shift in thinking should be applied to how we view our development opportunities, AND how we view our own abilities to shape our cities and fill needs we see everyday.
What needs do YOU see everyday in the vacancies and empty lots of your neighborhood? Let us know, we'd love to talk about it!
There has been a lot of speculation, civic theatrics and Big Ideas about the big open fields at the wrong end of the convention center; the end such a long, un-air conditioned journey away from the New Orleans of postcards, primetime detective shows, and the dreams of work-weary Yankees. Numbers with multiple zeros are thrown around and lots of Very Important People like to talk about how big the stakes are and how immense the terms and the effort and the eventual glittering success will be. With the amount of moving parts in a development that will cost big 'B' billions, it's no surprise that they keep getting derailed time and again, no matter how pretty the renderings.
If we keep up this strategy, even if all the players and bureaucrats and grants magically align to clear the way, I can guarantee that whatever happens there will not be as successful as the French Quarter - not on pure money-in, money-out, accounting terms. It may do just what it says it will, at least for a little while, and create new energy and novelty and tourism dollars on par with the French Quarter. But even if it does so, it may never break even after billions and billions of investment dollars and years and years of construction and traffic snarls and headaches and, likely, lots of public funding. But that's the way it has to be to build anything at all, right?
Because of the insistence of all parties involved to look at these very large tracts of land and approach it as needing to be taken care of ALL AT ONCE, it absolutely has to be that way.
If we go down that road, sometime in 2030, the ribbon will be cut on the last shiny building, the final check will be cut for Substantial Completion of a new neighborhood, marking an end to the movement of tons and tons of earth and steel and glass and balcony railings. These types of undertakings happen all the time, all around the country - Hudson Yards in Manhattan, Victory Plaza in Dallas - they are not unique to New Orleans, for certain. They are NOT UNIQUE TO NEW ORLEANS. They are not unique to anywhere. The sheer scale of such undertakings require vast resources pool internationally and require firms of all types, financial, construction management, architectural, engineering and as such they require a certain standardization of systems and parts that need to operate at utmost efficiency in order to pull something of such a scale off. And when punch lists are done and they leave town, they take their cut with them.
So then, after all that investment, how will average New Orleanians benefit? Sure conventioneers will party at the shiny new clubs, Mardi Gras krewes will have their balls, the young hip professionals will sip Sazeracs on rooftop bars - but everyday New Orleanians? They'll be concierging, waiting tables, bartending, cleaning bedsheets; only in newer buildings that they were before.
And I bet, even after all that, the French Quarter remains on the cover of all the tourist brochures; its draw will not be diminished. And that new district, ten, twenty, thirty years down the road - how will it hold up? Perhaps conventions will no longer be the way industry people connect in 2050, and the convention centers go the way of the American Mall? Will some aging hotels under a big steel bridge and a 37 minute walk away from the timeless French Quarter still hold the premium draw of the Gucci crowd it needs to pay for upkeep of all those shiny glass facades?
Maybe so. It's a big bet though. A bet so big, so expensive, most of us normal citizens not named Jaeger wouldn't dream of sitting at that table. Better to stick to the smaller bet table - after all, those are your people anyway. This story plays out all the time everywhere; it wouldn't be unique to New Orleans. It WOULDN'T BE UNIQUE TO NEW ORLEANS. It would likely be Dallas but with more fleurs-de-lis.
What if, instead of this giant wager based on the assumption that we know exactly what to do with all that land, right now, all at once - what if we replicate the same approach that made the French Quarter so successful?
What if instead of studying and combining into giant lots and masterplanning all this acreage, we chop it up. Parcels, 32 feet wide, half as deep as the block, could line each street. Relax or remove parking requirements, zone the neighborhood for mixed use, maybe with a loud area and a not-so-loud area. Someone can come in and buy up a few lots, or just one; however many they need to start their dream. Oh, and make a special tax district in which the land is not taxed based on the improvements made upon it, but is taxed based on its land value alone, in order to discourage real estate speculators from snatching up land to hold it, like a stock, as it increases in value while it remains an empty field.
These lots wouldn't be attractive to national chains, whose arsenal of cookie cutters would simply not fit within the framework we provided. But New Orleanians, I bet, have a lot of ideas about how to fill up a 32x160 footprint. We can still build a giant hotel for the convention center, but rather than surrounding it with megablocks of apartments with token affordable units thrown in the back for the brochures, surround it with a farm for New Orleanians to plant their ideas, watch the good ones grow, develop nest eggs for their families and maybe create some jobs that aren't eligible for SIN happy hour discounts on Tuesdays - jobs like shopkeeper, landlord, artisan soap retailer. That 32x160 footprint is a hell of a lot cheaper to build up, and sure, you might get some bad ideas or some commercial failures, but that failure wouldn't take down the whole block. With a 32x160 footprint, the bar is mighty low for someone else to swoop in and try something else. The more variety, and the smaller the grain, the more value you can squeeze into every city block; you'd get a gumbo of a neighborhood next to a steady supply of conventioneering anesthesiologists, financial planners and K-6 educational supply resellers anxious to try that gumbo. People might decide it's a nice place to live, too, so that if that convention center ever goes the way of the dodo, there can still be a source of customers.
Or maybe it's not at all successful, and a neighborhood there is a bad idea. That could happen in either case; but then ask yourself, "OK, that didn't work. How much money are we out?" The bad answer to that question is a billion dollars. That is the beauty of Incremental Development.
But full disclosure: this incremental approach isn't unique to New Orleans either. It isn't unique to the East Village in NYC, to Savannah, GA, or to the French Quarter, or any of our favorite urban places to visit. But the people of all those places are unique, and the end result, when you invite the locals to build, to benefit, to shape incrementally, is a place that is collectively as unique as its citizens. And the universal, MARKETABLE appeal of New Orleans citizens is undeniable. If we take care of our people, their value will endure as long as there is a city floating at the end of a delta at the northernmost point of the Caribbean.
If you are interested in small to mid-size developments in New Orleans or other historic core neighborhoods, this blog series includes valuable lessons of the past, present and future development challenges and opportunities!
Read More